Enjoy the Natural Beauty of Florida this Season!
I think that no matter how old or infirm I may become, I will always plant a large garden in the spring. Who can resist the feelings of hope and joy that one gets from participating in nature's rebirth?  – Edward Giobbi
We are lucky here in Florida to be blessed with good weather for most of the year, but I still enjoy this season. The days are lengthening giving us more time to enjoy the natural beauty that Florida has to offer. So get outside! Hike, bike, kayak, or whatever you enjoy, now is the perfect time to do it. Check out one of the many state parks, ornamental gardens, or find an event that celebrates spring flowers. There is something for everyone.
It can take a few days to get acclimated to the time change, but is it ever worth it! I normally get up before the alarm, but the first morning posed a bit of a challenge. I had forgotten how startling it is to be rudely awakened by the alarm clock. I trust by this time everyone is well adjusted and happy that, even though we get up "earlier" the extra daylight at the end of the day make it all worthwhile.
The fairs and festivals in our area are winding down and we at In The Field Magazine would like to extend our congratulations, not only the winners of the competitions, but all who entered. You set your goals, figured out where to concentrate your efforts and went for it! These events are the culmination of a lot of hard work for these students and each and every one of them should be commended for their efforts.
A great big THANK YOU goes out to our advertisers. You allow us to continue to Cover What is Growing. We couldn't do it without you.
Until Next Month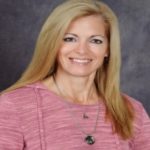 SARAH HOLT
Senior Managing Editor
sarah@www.inthefieldmagazine.com